Swiss endurance runner
The Egger pump shown here was decommissioned after almost 50 years of pump life in an Italian paper mill and is now enjoying its well-deserved retirement in our in-house Egger Museum in Cressier.
It is the ninth Egger pump of the NPD type built, with the famous Egger hydraulics for pumping fibrous and gaseous media. The pump was installed and commissioned on September 10th 1949 at the Cartiera Cariolaro S.p.A. paper mill in Carmignano in northern Italy. After 1½ years, the Egger pump came back to our factory in Cressier to increase the pump capacity and to change from a 12 hp to a 15 hp motor.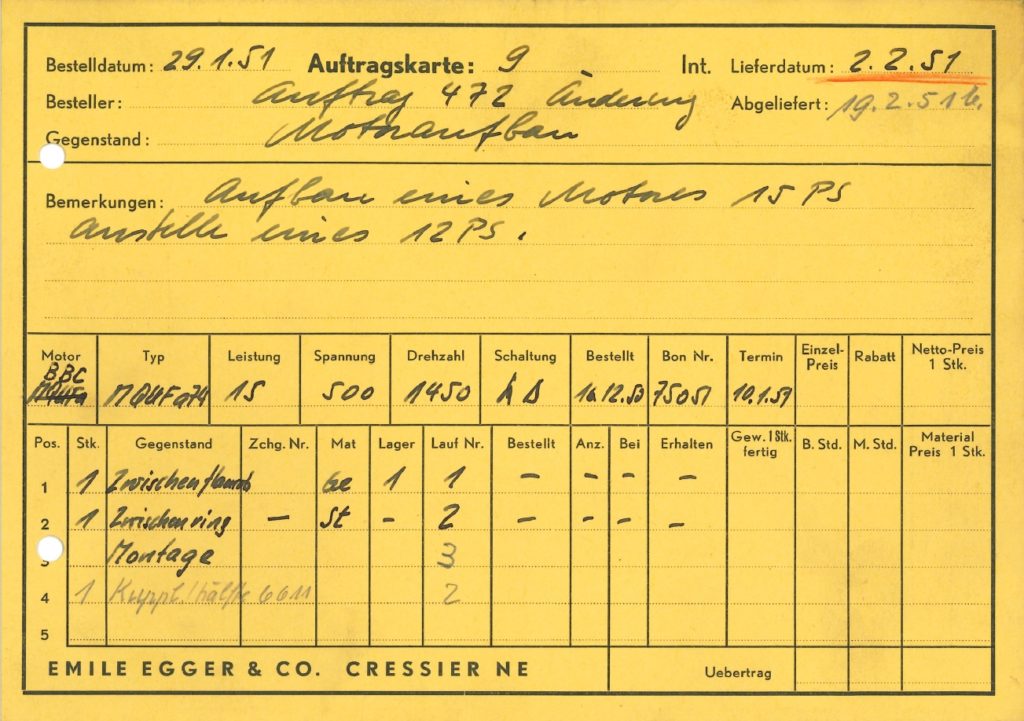 The order card from January 1951 documents the pump conversion.
A strong performance and a fine proof of a long-lasting Swiss quality product: the Egger pump NPD D200-80/80 provided faithful service in the Italian factory until 30 July 1997, when it was "retired" after 48 years of operation.
We will celebrate our 75th anniversary in 2022 and are wholeheartedly committed to continuing to develop and manufacture long-lasting products for our customers with Swiss quality and innovative strength. You can find more information about our company history under the following link